6 April 2020
Luye Medical Group donates masks to Singapore Cancer Society to help cancer patients combat COVID-19
Singapore, April 6, 2020 –  Luye Medical Group today donated surgical face masks to the Singapore Cancer Society to help cancer patients combat the COVID-19 outbreak. Kenneth Foo, Deputy Director of Singapore Cancer Society, received the masks from Kathleen He, Vice President, Group Human Resources and Joelle Lee, Singapore CEO at a simple donation ceremony.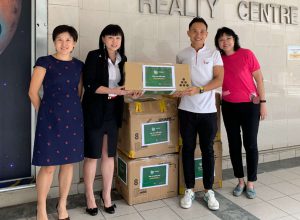 Cancer patients have reduced immunity, so they belong to the at-risk groups for COVID-19. The masks donated by Luye Medical Group will be distributed to patients receiving assistance from the Singapore Cancer Society, to protect them from exposure to COVID-19 during the journey to and back from their treatment. The Singapore Cancer Society is a Volunteer Welfare Organization (VWO), and some of its beneficiaries are from the lower-income segment of the society. These masks will help to meet their urgent needs.
Luye Medical Group Human Resources Vice President Kathleen He and Singapore CEO Joelle Lee said: "COVID-19 is a global challenge. Luye Medical Group donates these supplies to help cancer patients better protect themselves from COVID-19. We will continue to fulfill our corporate social responsibility and spend the difficult time together with the patients."
Singapore Cancer Society Deputy Director Kenneth Foo said: "Cancer patients are at a higher risk for infection. The masks help to solve the urgent needs of many patients, and we are sincerely thankful to Luye Medical Group for their thoughtful gesture."
Luye Medical Group has been active in fulfilling its corporate social responsibility. The Group is also providing support to healthcare professionals performing surgical treatment in underdeveloped countries and regions by providing medical supplies or personal training for them. Besides donations to people in need, the Group is also launching disease education campaigns of various themes on a long-term basis, to promote disease research and improve the public's knowledge, and to provide support for people who need help.
About Luye Medical Group
Luye Medical Group is a leading Pan-Asian private healthcare services company dedicated to providing patients with exceptional and value-based healthcare services. It currently owns and operates nearly 50 healthcare facilities across China, Australia, New Zealand and Singapore, aiming to become a leader in high-growth specialties including integrated cancer care, musculoskeletal conditions, cardiology and mental health.
For more information, please visit www.luyemedical.com
About Singapore Cancer Society
Singapore Cancer Society is a Volunteer Welfare Organization (VWO) that provides services and assistances to cancer patients. They also provide education and cancer screening
For more information, please visit www.singaporecancersociety.org.sg/