22 April 2020
Healthe Care Actively Cooperates with the Government to Fight against the COVID-19 Pandemic, Implementing Measures to Protect the Safety of Patients and Communities
With the global outbreak of COVID-19 and subsequent social distancing measures being imposed by the Government, Healthe Care has actively adjusted its service cooperated with Australia and New Zealand's local policy, insists on providing patients with high-quality treatments, and adopts screening measures to protect employees 'safety, conducts diversified training to help employees respond to the COVID-19 pandemic, and protects the community and patients' safety.
Innovation meets safety in amongst the 'new normal' of COVID-19
Tuggerah Lakes Private Hospital worked collaboratively to build an intubation screen to assist anaesthetists to safely manage patient's airways. The initial prototype was developed by Formation Signs. The redesigned prototype according to the size of Australians was then trialled on the Tuggerah Lakes Private resuscitation manikins and with some practice allowed staff to intubate and extubate safely.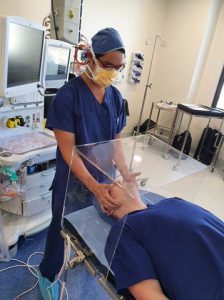 Orthopaedic Scrub Nurse from Gosford Private Hospital, Leanne Flynn, has combined her passion for sewing and sustainability, designing masks from recycled sterilised sterile wrap and the metal nose strips from used masks. The sterile wrap complies with the ISO 11607 requirements which makes them suitable for use as normal sterile masks.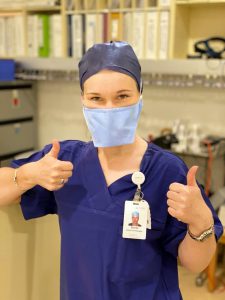 Meanwhile, social distancing measures have included the adoption of WorkChat video calls for the hospital's Leadership Team's meetings. Innovative approaches to the restrictions imposed by COVID-19 have also included 'out-of-the- box' thinking, including reviewing and redefining the range of tasks that are being performed by various staff groups. The hospital's Allied Health team are now providing physiotherapy services for the entire hospital, not just rehabilitation patients. This has allowed them to utilise their skills on a broader range of patients including ICU and Maternity.
Stand ready with protection and training
Staff at Lingard Private Hospital have been assisted by Coal Services in the fit testing and supply of respiratory protection equipment including Powered Air Purifying Respirators (PAPR). In addition to supplying respiratory protection equipment to staff, Lingard Private is also engaging in a number of strategies in preparation for increased numbers and changing patient needs, including anaesthetic sequencing, air circulation changes, reduced traffic, specific cleaning processes and creating specific super user 'COVID teams' in each area, to be called on if required.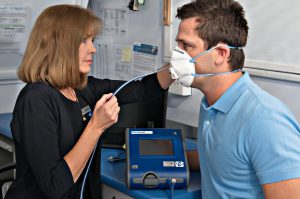 Staff at Forster Private Hospital have extended their COVID-19 preparedness by taking on-site training into their own (well washed) hands, proactively scheduling PPE donning and doffing training for all clinical staff and visiting clinicians. The training includes an overview of the virus, the importance of screening and precautions, followed by donning and doffing simulation exercises in selected clinical scenarios. The training is scheduled to take place three times per week throughout April, with the first sessions under the guidance of Rehabilitation Medicine Registrar, Dr Melissa McCarney, proving very effective.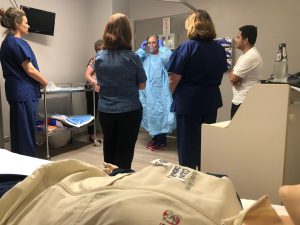 ICU Doctors and Nurses in Maitland Private Hospital are participating in daily simulation sessions and formalising skills they have acquired in the day-to-day ICU practice. This will enable the hospital to create a surge capacity nursing workforce, to assist the team in times of high patient flow. Trainings have also been prepared for Allied Health staff, wards men, environmental services, and catering staff.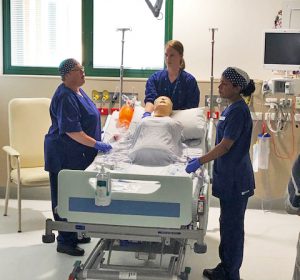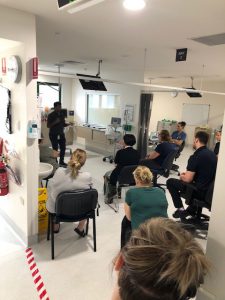 Adaptation the name of the game, supporting public hospitals
To remove the long delays associated with public hospital emergency departments and drawn out public fracture clinic appointments, Shellharbour Private Hospital's Injury & Fracture Clinic is now offering extended hours to relieve pressure on local public hospitals, and is waiving the consultation fee for public patients. Meantime, Hurstville Private Hospital is now assisting the local public hospitals with their fracture patients with flat fee of $90. The Clinic's flat fee service includes an x-ray, initial assessment, and materials for securing the injury.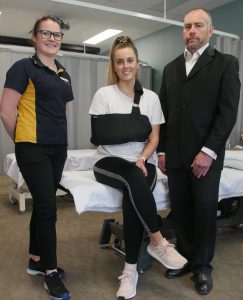 New Zealand has been in a National Alert Level 4 lockdown for the last two weeks. During this time all elective surgery has been cancelled, however Boulcott Hospital has been performing urgent surgery under contract for the public hospital located next door. The staff are using their time to work through training and upskilling themselves in clinical areas as required, and are banding together to ensure they keep patients, the staff and the community safe.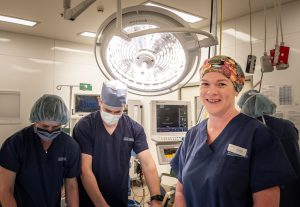 Mayo Private Hospital's Director of Clinical Services, Craig Johnson, has shared his reflections on the diverse changes faced by the hospital's staff over the pandemic,
"Welcome aboard the Mayo Private Hospital, a Healthe class Hospital vessel exploring the universe of change. Not long into our voyage we met our first challenge to the crew, the Burning Planet, or at least it felt like the planet was burning. Like all good Star Trek episodes the suspense was heightened as the COVID was encountered. Change and crisis seem to be the catch phrase on our short journey so far. The thing we have discovered is that it's the crew of Mayo that keep the vessel going. The Mayo team is able to manage change, they have grown with change and will continue to grow through change."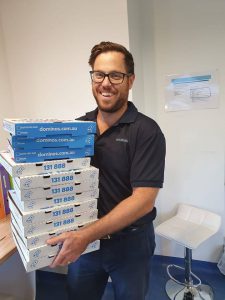 Healthe Care will continue to innovate, delivering world class healthcare for patients while maintaining the highest possible standards of safety for our staff.