18 November 2021
Mindfront Health Opens New Outpatient Center in Shanghai to Provide World-Class Mental Health Services
18 November 2021, Shanghai – Mindfront Health, the global mental service brand of Luye Medical Group opened a new outpatient center in Crystal Galleria, Jing'an CBD, Shanghai, China. Supported by experts from the Shanghai Mental Health Center, the new center gathers experienced psychiatrists and psychological counselors with overseas training backgrounds to provide patients with high-quality mental and psychological services.
Although located in the urban core of Shanghai, the new center is nicely designed for visitors to escape the city's hustle and bustle in a warm, healing and private environment. As Mindfront's first flagship clinic in China, it has a GFA of over 1,100 sqm, offering nearly 30 multifunctional rooms that allow individuals, families, and other groups to receive the best possible services in a relaxing and fun way.

Build a customized integrated EBM treatment system through global collaboration
Luye Medical Group completed acquisition of Australia's third-largest private medical group (now renamed as "Aurora Healthcare Australia") in 2016, including Belmont Hospital, Hills Clinic and 16 psychiatric institutions, and combined it with China's mental health business to develop a global mental service brand "Mindfront Health".
Mindfront Health teamed up with renowned public mental health institutions and expert to bring EBM (Evidence-based Medicine) treatment programs into China with the aim to build a customized integrated EBM treatment system. In addition, it carried out mental and psychological training curriculum plans for future EBM professionals by collaborating with top-tier psychological associations and authorities.
Mindfront offers different types of diagnostics and treatment services to patients ranging from children (aged 3-12) to adults (aged 25-50) with specific mental health problems such as hyperactivity disorders, perinatal mental health problems, anxiety and depression.
O2O service network enables remote consultation
Today Mindfront runs business in Shanghai, Guangzhou, Shenzhen and Xi'an, providing multi-disciplinary diagnosis and treatment services based on evidence-based medicine, encompassing mental, psychological, group and expressive arts therapy and other treatment models. It obtained Internet hospital license in 2021 to provide comprehensive and integrated interdisciplinary O2O services to larger audience through its Mindfront APP and mini APPs.
In addition, Mindfront Health opened its flagship store on JD Health on World Mental Health Day (10th October). By embracing e-commerce, the team aims to offer more attractive and accessible services with higher efficiency. The e-shop store provides multi-dimensional psychological evaluation and explanation, one-to-one evidence-based psychological consultation, psychological intervention and other consultation related projects, which are supported by the specialists from Mindfront Health's brick-and-mortar clinics.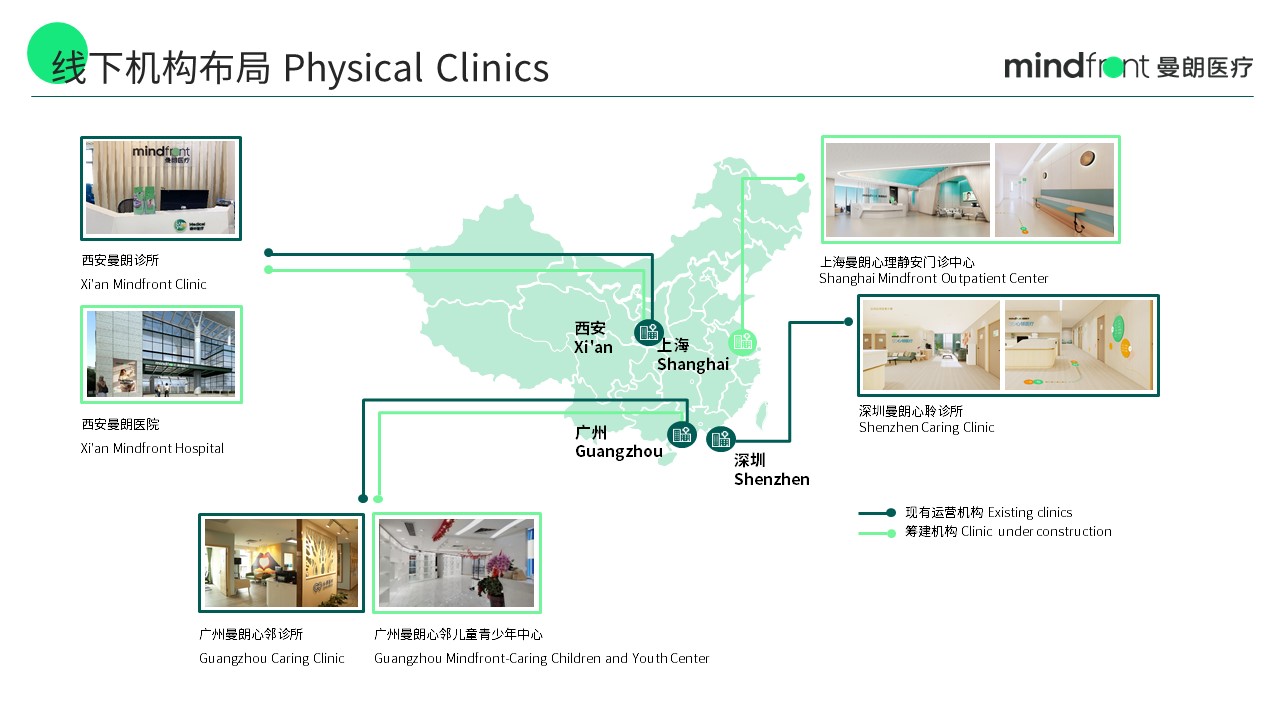 Liu Aona, Executive Chairperson, Luye Medical Group said: "We expect the new outpatient center becomes a 'haven for the soul' for those in need. We should also bear in mind that high-quality services require all-round efforts and constant thinking. Seeing mental health industry is developing in a professionalized and standardized way in China, we hope Mindfront Health could make more positive changes, take up the responsibility of building and improving the industry, and always uphold the belief of 'Passionate for Life', thus bringing health, dignity and hope to more people."
Tang Dekai, Chief Executive Officer, Mindfront Health (China) commented: "The core of professional mental and psychological services is to pay attention to and recognize the value of individuals. Therefore, Mindfront Health team's ultimate goal is to make more people to be seen and heard and supported by mental health professionals. I believe that mental disorders are just a diagnosis and cannot define anyone's life. And I hope that everyone who comes to our clinic can feel respect and understanding, and our patients receive effective, professional support to regain the meaning of life."